Covid-19
Video message concerning COVID-19, from our President & Owner, Jill Carlson. Learn how PARK CO., REALTORS® is being impacted, how we are operating safely for everyone's protection, and our thanks and gratitude to our community during these times.
---
Park Co. Topics on COVID-19
Please click on the following links below in regards to the topics on COVID-19 (coronavirus) to learn more from PARK CO., REALTORS®. Thank you!
Frequently Asked Questions (FAQ's) on COVID-19

PARK CO., REALTORS® Statement on COVID-19
The Power of Park…Here For You!
Like the rest of the world, the real estate industry is experiencing a period of uncertainty. While each day brings new challenges, the PARK CO., REALTORS team continues to vigorously do what we do best…serve our clients. During this critical time, we promise to keep you informed with up-to-date market knowledge and provide you with the guidance you need. PARK CO., REALTORS has been in business over 60 years, and we have weathered major floods, recessions, and everything in between. We have the proven experience to navigate difficult times, and we can assure you that our team is committed to providing top-notch service throughout the Fargo-Moorhead and Lakes region.
As always, our agents, staff, and clients' safety and well-being is our top priority, and we have the tools in place to function virtually as needed. Buyers are able to view listings via virtual tours, attend virtual showings, and view photos and information through our PARK app. For those critical in-person interactions, we have strictly enforced safety measures for both buyers and sellers. The bottom line is- we will meet our clients where they are comfortable.
Know that we are committed to doing our part to keep the economy going by supporting our buyers and sellers and ensuring that real estate transactions continue to move forward. We have actually worked through this world-wide pandemic to see our best JUNE in the history of PARK! Followed by very strong July, August, and September months. We know that tough times do not last but tough companies do. We've successfully faced challenging times before and we will do so again this time around.
From all of us at PARK CO., REALTORS, we thank you for your ongoing support and partnership. Stay safe and stay healthy!
Thank you!
---
PARK CO., REALTORS® FAQ's on COVID-19
We have been asked many questions on how PARK CO., REALTORS® is operating during COVID-19. Below we have provided our Frequently Asked Questions (FAQ's) in infographic (image) and PDF file format. If you have a question that you do not see on the FAQ, please contact us!
FAQ - Infographic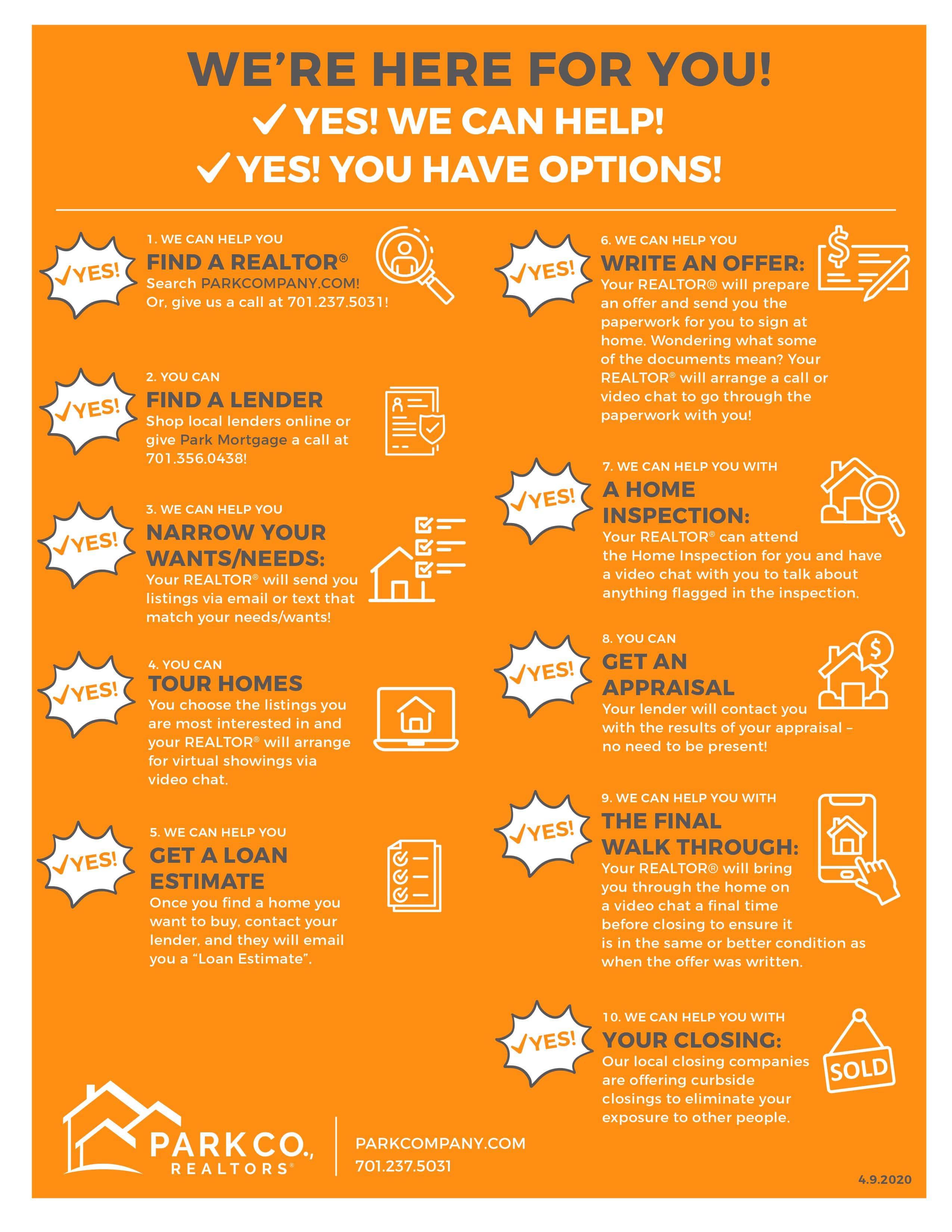 FAQ - PDF Format
You can view the FAQ's in our convenient PDF Format by clicking on the link below!
PARK CO., REALTORS®: COVID-19 FAQ's (PDF)
---
Other COVID-19 Resources
CONSIDERATIONS FOR EMPLOYERS, EMPLOYEES



UNDERSTANDING ECONOMIC IMPACTS



KEEPING WORKPLACES SAFE AND HEALTHY
Testimonials
" We have loved working with Kari Myhre! She's great! "
- Dawn Lelm
" Kari is knowledgeable, approachable, & kind! She was there for us every step of the way. The process seemed so complicated and scary. We put off our "starter home" purchase until 10 years after we got married! I'm so glad Kari & Park Company were with us when we finally took the leap. I do moonlight part time as an actor & commercial model. I would be thrilled to give an honest video testimonial about my great experience with Kari Myhre & Park Co. However, you would have to reach out to my agent to arrange it—I am under contract with Ultimate Image Model & Talent Management. My agent is Natalie Sparrow, her phone number is 701-271-0402 . Please give her a call if you're interested in my video testimonial or a commercial. "
- Shannon and Logan Eidson
" Kari coordinated our purchase and sale. She was friendly, informative, and helpful throughout the whole process. We enjoyed working with her and would recommend her to anyone looking to buy or sell. "
- Vernon and Leona Wevley
" We love Kari as a person and we do appreciate her knowledge and expertise in real estate. She stands on relationship and high integrity, too!! "
- Dave and Kelley Peterson
" We were first time home buyers and it's a lot of new information to take in, but everybody was super helpful and informative. When our realtor was not able to make it to a showing one day somebody else was able to step in and we received the same helpful attitude as we did from our own realtor. "
- Jessica Long
" Realtor made suggestions and considerations to make sure this transaction went smoothly. Thanks "
- Lyle Lelm
" All good "
- Kathy Tonneson
" Kari M' is the best and I love working with her. "
- David Fettig
" The sale went very smoothly. Kari Myre knew ISR products very well and was able to save me time and answered all my questions correctly and completely. Kari is very dedicated to her clients and knows the business of buying and selling home creating a smooth transition. I recommend Kari to any of my friends. "
- Roger and Pamela Erlandsen
" We chose Kari due to her years of experience & knowledge of the industry & she definitely fulfilled. We had a seamless experience as everything went quickly & smoothly. Greatly appreciated how personable & trustworthy Kari was, & she's a great communicator. She was always available & immediately responded to my calls, texts & emails which was so impressive. Couldn't have asked for anything more as she did an amazing job! "
- Cynthia Lunneborg
" Kari and Jamie answered all of our questions and made the whole process seem easy. "
- Jan Holte
" Kari knew what kind of neighborhood and home would work best for me even before I did. She made a suggestion to just take a look at a place and it turned out to be exactly what I was looking for. "
- Lynn Mahlum
" Kari was great. Easy to get along with and made everything simple and easy "
- Ami Markey
" Patience was had by both Kari Myhre and us regarding the sale of our old home and buying another home. Kari Myhre stuck with us and helped in any way she could for successful transactions. She followed through on all communication and documentation for the buying of the new home and selling our old home. She was very pleasant to work with. It is easy to understand that she is a very successful realtor, whereas the realtor representing the buyer of our home did not follow through on some communication with us regarding the sale. "
- Janet Kaspari
" The video footage that Kari arranged to view our home was very professionally done. Loved it. Always great working with Kari. "
- Valerie Hanson
" Kari was personable and professional from the date we first met. She met all of our expecations, ensuring a quick sale at our listing price. "
- Ron & MaryBeth Peterson
" Kari Myhre made the selling process very easy when it can be a stressful process. She is such a great person in general. You could tell she really cared about you as an individual. I am so happy we went with Kari as our realtor. Couldn't have asked for better when selling our first home! "
- Gabrielle Johnson
" Excellent working with Kari she is awesome "
- Steven and Kimberly Albin
" She was very kind and patient dealing with us and very good to explain things that we didn't understand. "
- Dale Finstrom
" Everything was exceptional. Kari sold us our home 30 years ago and sold it again! Kari made this transition easy for us. We chose Park Co. Realtors because it's a great company with knowledgeable realtors and awesome service. "
- Pam Vadnais
" Everything went smoothly - Kari was very responsive, she even put a stamp on a return envelope! "
- Gracia Fulwiler
" Kari M. did an incredible job and I will definitely recommend her in the future "
- Roxanne Engebretson
" Kari had lots of patience and endured in looking for a home for us for 8 months. She gave great advice and was very helpful throughout the entire process. We have used her in the past for selling and buying homes and would continue to recommend her! "
- Valerie Hanson
" Kari was great. "
- Austin Vendeberg
" Same as previous comments. "
- Marc Hanson
" Kari kept me informed through the whole process. Many unexpected things came up during this sale, and she never wavered. She's professional, and I have never been disappointed. "
- Pam Dutch
" Kari was the best so efficient attentive to details prompt on getting things done amazing personality kind caring will recommend her to anyone Kari always went above and beyond for us much appreciated Kari "
- Nancy Faus
" Kari has assisted us with buying two homes and selling one. She has is always very professional and very responsive. Kari is a great resource as there can be many challenges to buying/selling. We would recommend Kari to anyone looking to buy or sell. "
- Kayla Hanson
" Kari myre did a great job she was very efficient,she made sure everything was done correctly and was very good to work with. We highly recommend her. "
- Richard Faus
" Kari was fantastic! She was extremely responsive and kept me well informed during each step of the process. She handled negotiations well and she provided good advice and recommendations regarding the buying process. Thanks for everything Kari! "
- Gretchen Wagendorf
" Kari always sells my houses quickly and for a fair price. Kari Myhre is the best, she always has solutions to selling my homes. "
- Fred Clark
" Kari is intelligent, efficient, and honest which is what anybody would look for in a realtor. She helped us find a home that was in our budget and that had the amenities we wanted! Will definitely choose Kari and Park Co for future sales! "
- Katherine Gefroh
" Great experience. Kari and Jamie were incredible and we would recommend to anyone. They answered all questions, took care of all details, were friendly, and could not have been better to work with. We are very thankful and appreciative. "
- Jon Holte
" Kari was great to work with! She helped us through the options of buying/building a home. When we decided to build everything went very smoothly! Kari treated us like we were family and made the process easy. "
- Alexis Ganser
" Kari did a great job especially since this was a long closing process. "
- Brad Bolin
" Kari is very knowledgeable and patient. "
- Janet Kaspari
" We relocated to Fargo from Victoria, Tx. Kari was assigned to us from our relo company, Cartus. Our experience with Kari was amazing! Not only did she assist us in finding the perfect house for our family, but she made us feel welcomed to Fargo. Gave us a great tour and guided us to some of her favorite restaurants and shopping. Kari is wonderful. We would highly recommend her to many other families. Such a great experience! "
- Kara Edwards
" Kari was professional, friendly, and informative. She made the sale of my home a comfortable experience. "
- Sandy Berreth
" We had a great experience with Kari. She is helpful, thoughtful, and goes the extra mile. She is very responsive, calm and professional. And, easy to talk to. We wouldn't have found the house we bought without her. "
- Julianna Bosmoe
" Kari was so helpful. She worked super hard to get our house sold. Kari has so much experience and answered a thousand questions for us. She made the experience so easy and fun. "
- Scott and Karla Scholl
" Kari always sells my houses quickly and for a fair price. "
- Fred Clark
" My wife and I have moved many times over the last couple decades. Kari is one of the stronger realtors we have worked with. She is very pleasant to work with and is an exceptionally clear communicator, which made the process substantially easier than some of our previous moves. "
- Kipp Edwards
" Kari was fantastic! Very responsive and knowledgeable. All others involved in the buying/closing process were great. Also, Kari has a ton of experience and was very helpful! "
- Loni Cochrane
" Kari was great to work with, she was always willing to answer any question. "
- Tim
" Kari Myhre was very Professional in selling our home. She diligently worked through all the situations that came up selling process... "
- Paul and Dianne Ostby
" It was a great experience Kari was amazing. Nothin but good things to say about you guys. "
- Rylee Gefroh
" Kari was attentive and answered our many questions. She was very patient with us. She really knows her stuff!! "
- Crystal Finstrom
" She was always there to answer questions and treated us like it was a million dollar sale. "
- Steve Chesnick
" It took longer than expected to sell our house but in the end it all worked out. Through Kari's positive attitude and support we ended up with a great experience! "
- Nediha Kolakovic
" We are thrilled with the outcome and all the help we received along the way. It was an experience for us and we leaned a lot. Glad to have Park Co. On our side from start to finish!! "
- Michael Molstre
" She was very good about getting our home on the market and getting showings to our home in an efficient manner. She showed us multiple houses and though we didn't decide to buy (currently building), she was very patient and easy to communicate with. We would recommend Kari and Park Co. to anyone looking to buy or sell a home! "
- Brittany Bolin
" Kari did a wonderful job. Her little bit of staging really helped an empty structure. "
- Stephen and JoAnn Kantrud
Previous
Next